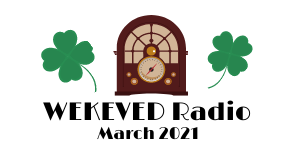 WEKEVED Radio #3 For March, 2021
This is my occasional "Radio show" on which I share recordings of compositions and performances I have done over the years. This month includes Irish music on piano, organ, penny whistle and, of course, bagpipes!
The Butterfly – Traditional Irish jig. Arranged and played by Kevin Weed, piano.
Two Jigs by Kevin Weed, bagpipes and piano.
Planxty Fanny Power – This is one of my wife's favorite tunes by the blind Irish harper, O'Carolan.
Brother James Air – is a Scottish hymn. Arranged by Kevin Weed. Kevin Weed piano; Larry Kolakovsky, organ.
Morning Has Broken – Traditional Scots Gaelic tune, Bunessan, Arranged by Kevin Weed. Charles Raasch, organ. Kevin Weed bagpipes and penny whistle. This performance for Orange County's American Guild of Organists shows the challenges of balancing these instruments.
Celtic Epic for Scottish Highland bagpipes and Concert Band– by Kevin Weed is a journey through the many moods of music of the Scottish Highland bagpipes: The first movement starts with a majestic fanfare; a sweeping view of Celtic lands. Then into a march tempo of work, travels and battles. The second movement begins with a lament; a memorial for those that have fallen in battle, or otherwise passed on; then an old air in memory of good times and good people. The third movement is an Irish jig; a dance and celebration of good health. This is a MIDI version, that is, I am playing the bagpipes along with my computer (Finale/Garritan)
Traditional Irish tunes
Reels-Music in the Glen, The Dunmore Lasses, The Banshee
Jigs-St Patricks Day Brian Borus and Garryowen
High Reel and Star of Munster
Londonderry Air